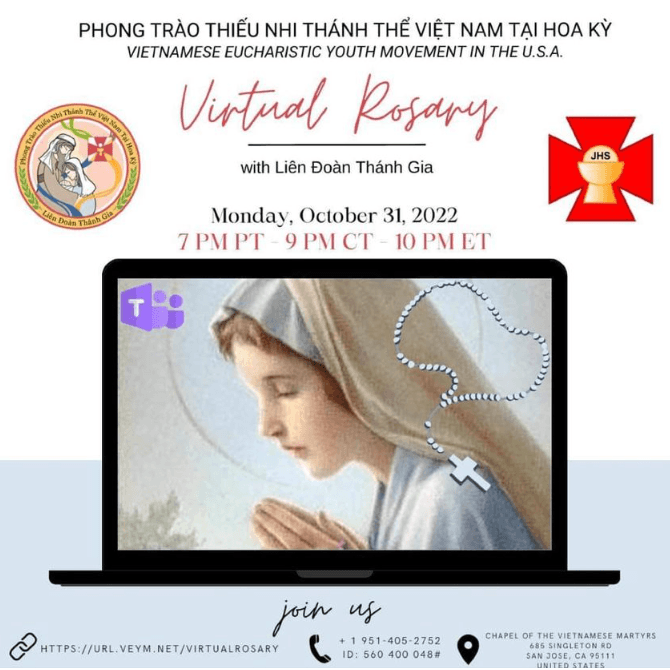 Happy All Hallows' Eve!
October 31, 2022
On behalf of VEYM National Executive Committee, greetings and happy All Hallows' Eve to you and your loved ones!  You may recall reciting it in the Lord's Prayer, "Our Father who art in heaven, hallowed be thy name" (Mt 6:9). 

 
The term

 
hallow
 

means "holy".
The three days of All Hallows' Eve, All Hallows' Day, and All Souls' Day are collectively known in our Church as Allhallowtide.  This is a time we, the Church Militant, honor the saints (the Church Triumphant) and pray for all souls (the Church Suffering in purgatory). 
Traditionally, the Church grants plenary indulgences to the faithful each day from November 1st to November 8th when they visit a cemetery to pray for the departed and fulfill the indulgence requirements. Since praying for the departed is a responsibility of all VEYM members, we highly encourage you to visit a cemetery in the next 8 days to pray for and obtain indulgences for the recently departed souls.  Please save the date to gather for our VEYM virtual Chaplet of Divine Mercy prayer for all souls in purgatory on 
November 18th, 2022 at 
7 PM PDT / 9 PM CDT / 10 PM EDT. Kindly use the following link to dial in
https://url.veym.net/Pray4AllSouls
Also, don't forget to join the VEYM 2022 Spiritual Bouquet Campaign celebration. Please see the following flyer for more information:
Finally, please don't forget to 

gather

 for our last Virtual Rosary devotion this month. The Holy Family League of Chapters will lead us in prayer tonight at 7 PM PDT / 9 PM CDT / 10 PM EDT.  Kindly help spread the words and invite your friends! Can't wait to pray with you!
Three ways of joining in prayers:
To joining via your browser as a guest: 
Meeting ID: 243 327 520 930 & 
Passcode: RjQdLu
To call in (audio only) +1 951-405-2752 &
Phone Conference ID: 560 400 048#
"Các tôi tớ Mẹ Maria nơi luyện ngục thường được Mẹ đến viếng thăm an ủi." -

 

Thánh Anphongsô
Chúng con xin kính mời đại gia đình Thiếu Nhi Thánh Thể Việt Nam tại Hoa Kỳ cùng tham gia vào buổi đọc kinh Mân Côi trực tuyến cùng với Liên Đoàn Thánh Gia vào lúc 7 giờ tối nay (giờ bờ Tây Hoa Kỳ).  Kính chúc quí Cha Tuyên Úy, quí Trợ Úy, quí Trợ Tá cùng Anh Chị Huynh Trưởng và các thành viên trong Phong Trào ngày Lễ Vọng Các Thánh an bình và mạnh khỏe!  Hẹn gặp cả nhà mình vào giờ kinh Mân Côi tối nay!