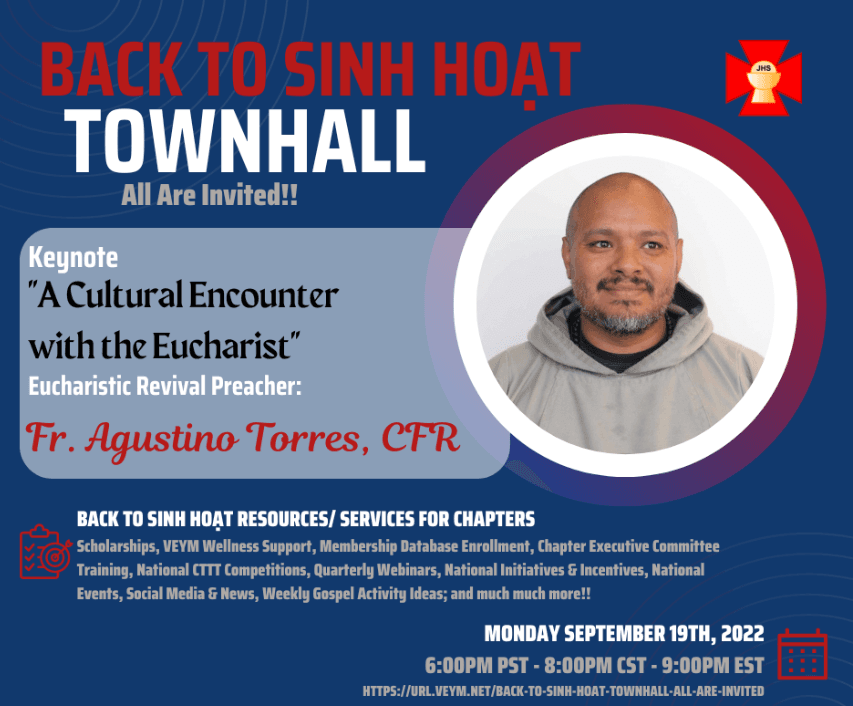 Back To Sinh Hoạt Townhall Invitation
September 09, 2022
Kính chào quí Cha Tuyên Úy, quí Trợ Úy, quí Trợ Tá, quí HLV và quí HT,
Dearest VEYM Chaplains, Chaplain-Assistants and leaders,
BCHTU chúng con xin kính mời quí vị bớt chút thời giờ tham dự buổi "Back To Sinh Hoạt Townhall" cùng với tân BCHTU chúng con vào Thứ Hai, ngày 19 tháng 09 năm 2022 lúc 9 giờ tối EDT (giờ New York) / 8 giờ tối CDT (giờ Chicago) / 6 giờ chiều PDT (giờ Cali).  Xin quí vị dùng đường link sau để gọi vào và xem chương trình kèm theo. Xin các LĐT giúp chúng em gởi thông tin đến các đoàn và kêu gọi mọi người cùng tham dự.  Xin cảm ơn các Anh Chị!
You are cordially invited to the "Back to Sinh Hoạt Townhall" with the new National Executive Committee on Monday, Sept. 19, 2022 at 09:00PM EDT / 08:00 PM CDT / 06:00 PM PDT. Please use the following link to call in. We also ask the League of Chapters presidents to kindly help spread the news and invite all chapters in your league to join in with you.  Thank you very much!
Teams Meeting Link:
https://url.veym.net/Back-To-Sinh-Hoat-Townhall-All-Are-Invited
Keynote with Eucharistic Revival Preacher, Fr. Agustino Torres, CFR
"A Cultural Encounter with the Eucharist" 
Father Agustino Torres, CFR, is a priest with the Franciscan Friars of the Renewal based in the Bronx, New York. He is the founder of Corazon Puro, an organization dedicated to forming youth. He hosts the EWTN television shows Icons and Clic con Corazón Puro in Spanish. Father Agustino was one of the friars who founded Catholic Underground, an apostolate of the Friars of the Renewal, and the Casa Guadalupe (women) and JPII (men) houses of discernment. He is internationally sought to address topics such as the Church's teachings about human sexuality, vocational discernment, and missionary discipleship. Most recently, Fr. Agustino was the emcee for big National Catholic Youth Convention and one of 50 commissioned Eucharistic Preachers in the US. 
Back To Sinh Hoạt Resources/Services for Chapters
Scholarships, VEYM Wellness Support, Membership Database Enrollment, Chapter Executive Committee Training, National CTTT Competitions, Quarterly Webinars, National Initiatives & Incentives, National Events, Social Media & News, Weekly Gospel Activity Ideas; and much much more...
COME MEET THE NEW NATIONAL EXECUTIVE COMMITTEE, AND LEARN HOW TO BEST SUPPORT YOUR CHAPTER!   
Chúng con xin cảm ơn quí vị!  Kính chúc quí Cha, quí Trợ Úy, quí HLV và HT một cuối tuần an vui, mạnh khỏe  & bình an trong Anh Cả Giêsu!
Thank you so much!  Wishing everyone in our VEYM family a joyous weekend filled with blessings from our beloved brother, Jesus!