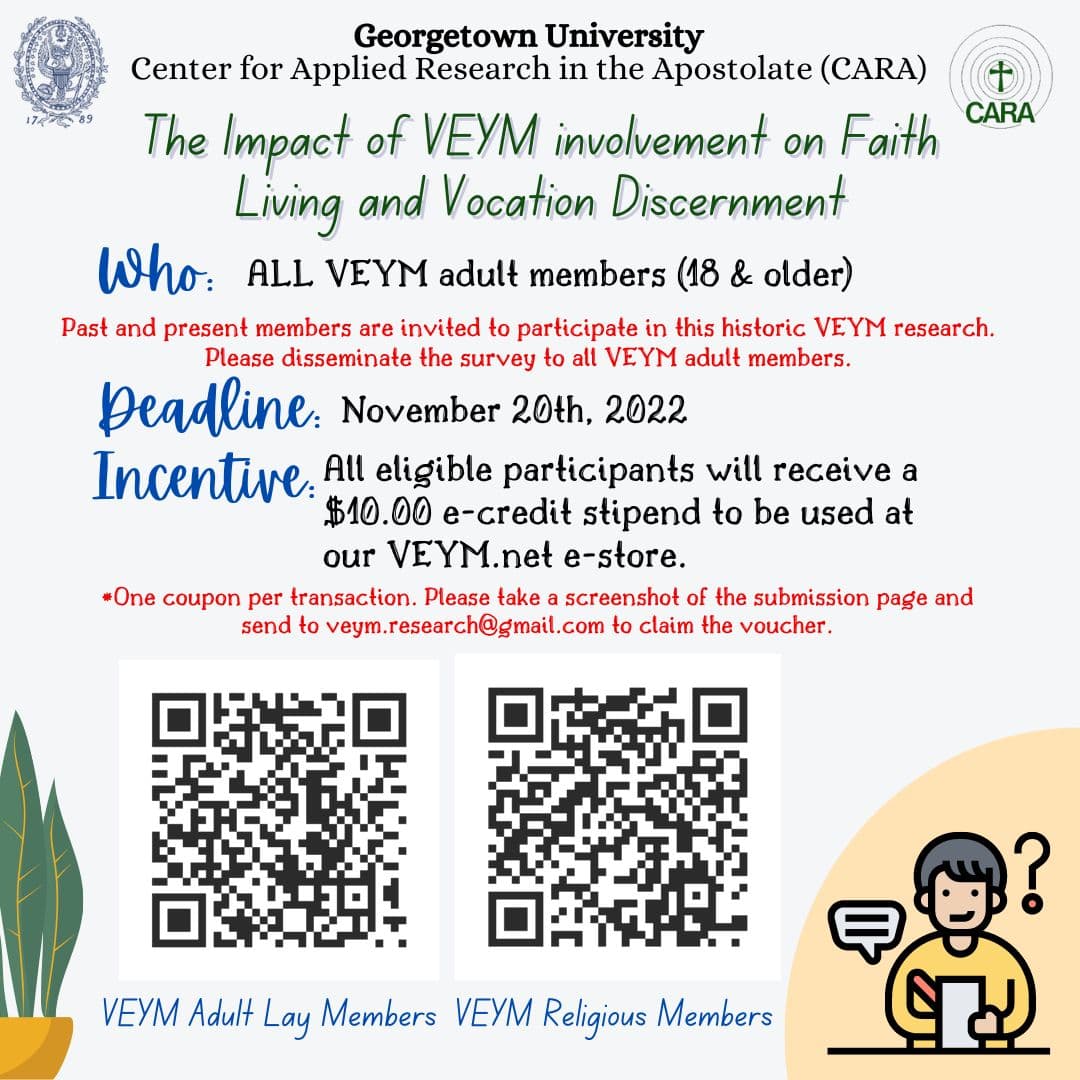 Invitation to Participate in Historic First Research on VEYM by Georgetown University's Center for the Applied Research on the Apostolate (CARA)
October 31, 2022
Dearest Chaplains, Chaplain Assistants, Youth Leader Trainers, and Youth Leaders (past and present):
It is with great joy that I report to you, our VEYM has been selected by CARA through Georgetown University to conduct a study on the impact of VEYM members' participation on faith practices and vocation discernment. 
For many years, the VEYM has anecdotally been regarded as the modeled organization to cultivate faith among young adults and the cradle for vocation to religious life, however, there is virtually zero empirical data to speak to the efficacy of our Movement. With the VEYM approaching its 40th year in the United States since the official establishment of the National Executive Committee in 1984, the timing of this research is providential.
The VEYM is grateful for Sister Thu T. Do, LHC, Ph.D. Through her proposed study funded by a research grant, CARA is able to conduct this important research on the VEYM. In awe of this blessed opportunity, I implore all VEYM adult members, to include all past and present members, to spare a few minutes to complete this survey as the research findings will have significant implications for our Movement. 
To participate in this study, click on one of the respective links below OR scan the corresponding QR codes on the flyer. Deadline to complete the survey is November 20th, 2022. Respectfully request that you also forward this correspondence to all past/former VEYM members. All eligible participants will receive a $10.00 e-credit voucher for VEYM e-store purchase. Please submit a screenshot of your survey submission page to veym.research@gmail.com to receive the voucher. Only one voucher may be redeemed per transaction.  
Religious/Priest VEYM members survey link: https://bit.ly/veymvocation
Adult Lay VEYM members survey link: https://bit.ly/3MhV3PO
Thank you! May God bless you, and may He bless our collective effort to bring greater glory to Him!