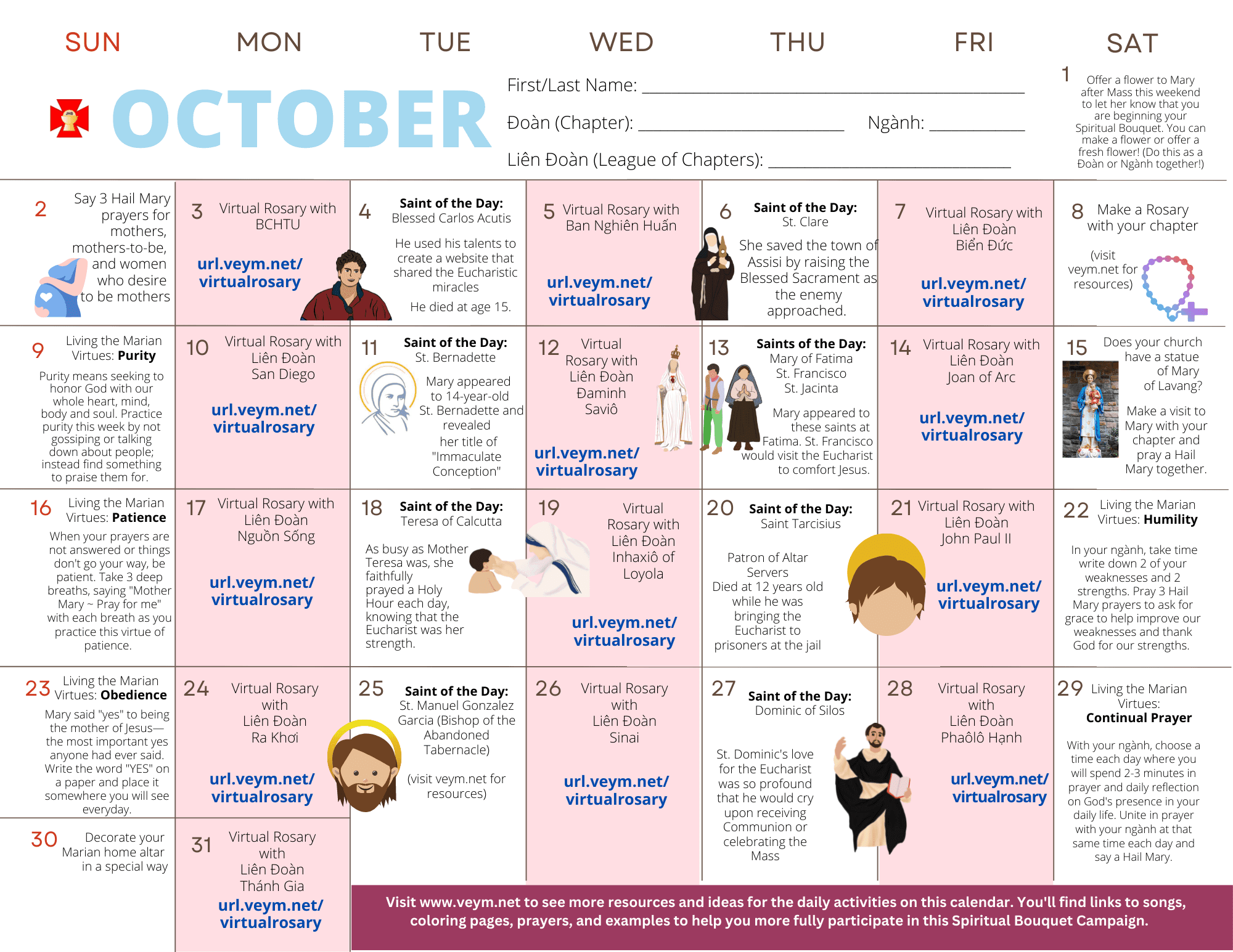 Spiritual Bouquet Campaign 2022 Rosary Month
September 26, 2022
...an invitation to all VEYM members to become Holy tabernacles for Jesus in the Eucharist!
In this month of October, the Church encourages us all to make a devotion to Mother Mary and pray the Rosary. Mary was chosen as a physical tabernacle for Jesus, and God calls each and every one of us to be holy tabernacles for Jesus in the Eucharist today. We can do so by living holy lives in the way we act, serve, and pray. VEYM invites all to unite together in devotion to Mary and ask for her help to keep us on the path of holiness so that we can be a worthy tabernacle for Jesus in the Eucharist.
Three ways to participate in the Spiritual Bouquet Campaign: 
Virtual Rosary- Join VEYM every Monday, Wednesday and Friday for a prayer time together led by each League of Chapters (Liên Đoàn); see the 

calendar

 for the schedule.

If joining via your browser as a guest, use:
Meeting ID: 243 327 520 930
Passcode: RjQdLu

To call in (audio only) +1 951-405-2752 Phone Conference ID: 560 400 048#

 

Calendar of Daily Spiritual Bouquet Activities - Participate in the October Spiritual Bouquet Campaign activities on our 

calendar

! The calendar suggests activities you can do throughout October as a spiritual bouquet offering to Mary and Jesus. (Click

here to access a digital calendar

that includes links to songs, coloring pages, prayers, and other examples to help you more fully participate in this Spiritual Bouquet Campaign.)

Draw a flower in the box for each day you complete. Then snap a photo of your completed calendar and submit it to us to be entered into a drawing for fun prizes! Scan the QR code below to upload your completed calendar or email it to liz.c.pham@veym.net by November 1. Even if you weren't able to complete every activity on the calendar, it's ok, send your calendar in anyways! All efforts big or small to make a spiritual offering is seen and loved by God. Drawing winners announced on November 3. Be sure to ta us (@veym.usa.tntt) and #bhtveym if you post about your Spiritual Bouquet Campaign activities on social media.
---
Holy-Ween Saint Costume Contest 
Have some fun with the Saints!
In conjunction with the Spiritual Bouquet Campaign, we invite you to participate in the Holy-Ween Saint Costume Contest. 
1) Dress up as any Saint with a strong devotion to the Eucharist and Mother Mary (you can research your own or use the Saint of the Day on this calendar for some ideas!)
2) By the end of the day Oct. 30, submit a photo of yourself in your costume. Submit via the QR code. Multiple submissions of different saints are welcomed.
3) Include your full name, Ngành, Đoàn, Liên Đoàn, and the name of the saint in costume with a short description as to how this Saint has lived a devoted life to the Eucharist or Mother Mary.
Your submitted photos will be posted on the official VEYM Facebook Page & Instagram for voting. Only votes on our official pages will be accepted. People Choice Awards (combined votes on VEYM FB & IG), Most Inspiring Award (Committee selected), and many other prizes are waiting for you! Winners will be announced on Nov. 3, during the Campaign closing celebration.